Bytown Voices Spring Concert "By Request" April 26, 2015
By Request


Sing Hallelu! Liberian Folk song arr. Donald Moore
You are the New Day John David arr. Peter Knight
Un Canadien errant Fr Canadian traditional melody Antoine Gérin-Lajoie / arr. Robert Jones
Grant Us Thy Peace Felix Mendelssohn/words Martin Luther
Hallelujah, Amen from Judas Maccabaeus G.F. Handel
We Rise Again Leon Dubinsky / arr. Lydia Adams
Dulce Jesús mío Anon. Chiquito/Spanish hymn (Bolivia)
Hanacpachap cussicuinin Anon.Quechua hymn (Peru)
South Pacific Medley R. Rodgers & O. Hammerstein ll
Arr. Clay Warnick
Hymn To Freedom Oscar Peterson Arr. Kirby Shaw
Lyrics: Harriette Hamilton
The Bytown Voices Spring Concert was held Sunday, April 26, 2015 in St. Basil's Church, Ottawa, with more than 150 guests in attendance. Featured soloist soprano was Margaret Whisselle. The concert was titled "By Request" reflecting that many of the pieces were suggested by choir members. Each of the pieces was introduced by a Bytown Voices chorister and "Grant Us Thy Peace" by Felix Mendelssohn was dedicated to honouring all the missing and murdered Aboriginal women in Canada. Two songs from South America were performed in the Chiquito and Quechua indigenous languages and our language advisor Jean-Marc Emery was in attendance. The finale was Oscar Peterson's "Hymn to Freedom". We performed our first ever encore.
In response to an appeal for funds to support victims of the Nepal earthquake audience members generously contributed $325. A part of the concert proceeds will round this total to $400 which will be matched 100% by the Government of Canada.
Click on each photo below for larger images, captions and slide show.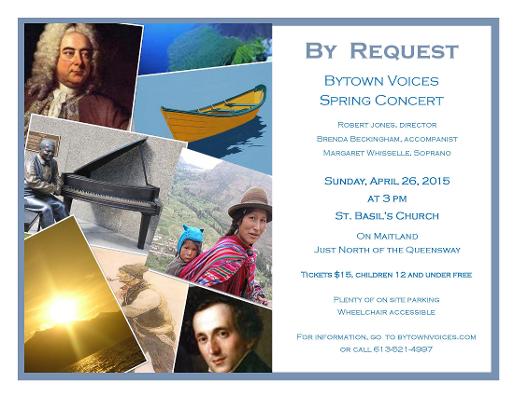 Spring Outreach Concert at Oak Park Retirement Residence, Ottawa April 28, 2015