REHEARSALS AND CONCERTS
May 8/16 Spring Concert 3:00 pm St Basil's Church
Regular Weekly practices: each Tuesday 7:30-9:30 at St. Basil's Church
(see New Members Welcome below)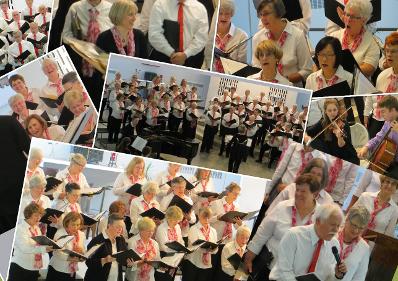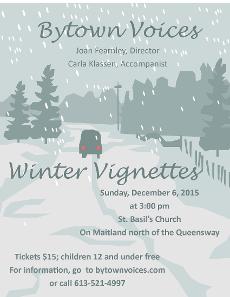 NEW MUSICAL LEADERSHIP FOR BYTOWN VOICES
Bytown Voices Community Choir is delighted to announce the appointments of
JOAN FEARNLEY as Director of Music, and CARLA KLASSEN as Choir Accompanist.
Both individuals assumed their duties September 2015.
The Bytown Voices is a non-audition community choir made up of more than 50 enthusiastic singers from across the Ottawa region. We perform two concerts a year, with additional outreach performances at seniors' residences and long-term care facilities. The choir is open to women and men of all ages and is SATB (Soprano, Alto, Tenor, Bass).
Our history: In 1999 when the Glebe Singers became a women's choir, several of the members approached Ann McNamee, the accompanist, to form a new choir - and the Bytown Voices community choir was born. Ms McNamee was followed by Bob Jones, who served as director of music from 2004 to June 2015. The Bytown Voices has been performing continuously since 1999.
RECENT EVENTS
Bytown Voices Outreach Concert at Billingswood Manor, December 8th, 2015
Bytown Voices Winter Vignettes concert, December 6, 2015
Bytown Voices AGM held June 11, 2015
Bytown Voices Spring Concert "By Request" held April 26, 2015.
Bytown Voices Outreach Concert at Oak Park Retirement Residence, Valour Road, Tuesday April 28, 2015.
NEW MEMBERS WELCOME
New members may join at any time and are welcome to "try us out" first before we take your money!
Rehearsals are every Tuesday from 7:30 - 9:30 pm.
The fee for each season (Fall and Spring) is $95.00
For more information contact bytownvoices@gmail.com
Check out the FAQ for answers to commonly asked questions and the Choir Guidelines for our approach to music making.