Bytown Voices: A Community Choir in Ottawa
Light! Bytown Voices Winter Concert Medley 2016.mp3
LIGHT!
Our 2016 Winter Concert
Sunday, December 4th, 2016
Delight in the Light! December's darkness is reflected by many cultures whose celebrations include candles and stars. Our winter program focussed on candlelight's comfort and starlight's guidance as well as beautiful seasonal pieces.
1. Winter Has Come
2. Choose Something Like a Star
3. Ave Maris Stella
4. Rise Up Shepherd and Follow
5. We Three Kings
6. Star Carol
7. Candles Are Dancing
8. Three Hanukkah Songs
9. Sankta Lucia
10. By Candlelight
11. Celebrate Kwanzaa
12. Here Comes the Light!
For a sample of the concert performance click on the mp3 left.
Who Is Bytown Voices
The Bytown Voices is a non-audition community choir made up of more than 60 enthusiastic singers from across the Ottawa region. We perform two concerts a year, with additional outreach performances at seniors' residences, long-term care facilities and with other choirs. The choir is open to women and men of all ages and is SATB (Soprano, Alto, Tenor, Bass).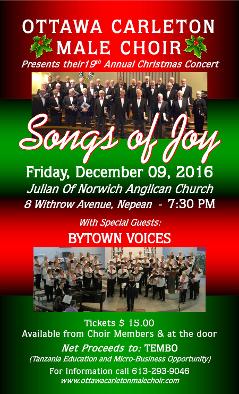 OUTREACH CONCERT
December 9, 2016
Each year Bytown Voices does a number of outreach concerts. This year we are joining voices with the Ottawa Carleton Male Choir for a special "Songs of Joy" concert on Friday, December 9th at Julian of Norwich Anglican Church at 8 Withrow Ave, Nepean. All net proceeds will go TEMBO: Tanzania Education and Micro-Business Opportunity. All are welcome.
See poster left for details.
BYTOWN VOICES
2017 Winter-Spring Season Begins
Tuesday, Tuesday, January 10th, 2017
7:30 pm
Unless otherwise indicated, practices are at
St. Basil's Church, east off Maitland,
just north of the Queensway
NEW MEMBERS WELCOME
Potential new members are welcome to "try us out" anytime before we take your money. New members may join during the first month of each season (September and January).
Rehearsals are every Tuesday: 7:30 - 9:30 pm.
The fee for each season (Fall and Spring): $95.00
(Music provided)
For more information contact bytownvoices@gmail.com
RECENT EVENTS
Light! Bytown Voices Winter Concert December 4, 2016
Bytown Voices Outreach Concert at Perley Rideau Veterans' Health Centre, May 10, 2016
Bytown Voices Songs for All Reasons, Spring Concert, May 8, 2016
Bytown Voices Outreach Concert at Billingswood Manor, December 8th, 2015
Bytown Voices Winter Vignettes concert, December 6, 2015