Bytown Voices: A Community Choir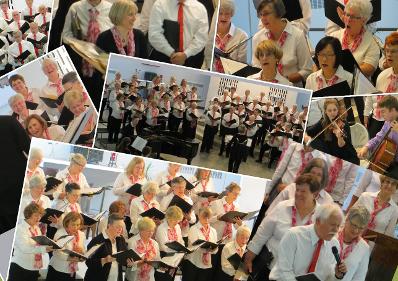 Upcoming Events
2016 Fall Season Begins
Tuesday, September 6th 7:30 PM
Trinity United Church
1099 Maitland just South of the Queensway
(for 1st practice only-all other practices at St. Basils's Church)

Doors open at 7 pm. Come early to register and meet and greet choir members.
Sunday, Dec. 4th, 2016
Bytown Voices Winter Concert, St Basils Church
Medley Songs for All Reason Spring Concert 2016.mp3
Bytown Voices Spring "Songs for All Reasons" concert featured guest soloists soprano Hayley Swanton, flautist Cathy Baerg and additional pianist Ingira Reimer.
Audience members contributed $562 to the Alberta relief effort. This will be matched by the Government of Canada and augmented by a portion of the concert revenues.
For full concert program click here
The Bytown Voices is a non-audition community choir made up of more than 50 enthusiastic singers from across the Ottawa region. We perform two concerts a year, with additional outreach performances at seniors' residences and long-term care facilities. The choir is open to women and men of all ages and is SATB (Soprano, Alto, Tenor, Bass).
RECENT EVENTS
Bytown Voices Outreach Concert at Perley Rideau Veterans' Health Centre, May 10, 2016
Bytown Voices Songs for All Reasons, Spring Concert, May 8, 2016
Bytown Voices Outreach Concert at Billingswood Manor, December 8th, 2015
Bytown Voices Winter Vignettes concert, December 6, 2015
NEW MEMBERS WELCOME
New members are welcome to "try us out" first, starting September 6th, 2016, before we take your money!
Rehearsals are every Tuesday: 7:30 - 9:30 pm.
The fee for each season (Fall and Spring): $95.00
(Music provided)
For more information contact bytownvoices@gmail.com
The BV Blog
BV Spring Concert May 8th: Pauline Murdock, visiting Ottawa from  Halifax, NS was delighted to win the Bridgehead doorprize.
Bytown Voices Director of Music JOAN FEARNLEY stars in the Ottawa Premier of "Fuhrerbunker" a fully staged chamber opera set in the fall of Berlin at the end of World War 2.  June 15, 2016 at the Mayfair Theater, Ottawa. Tickets are $25 at the door. Presented by AGERMUSIK..


Outreach concert at the Perley-Rideau Veterans' Health Centre, Ottawa, Ontario May 10, 2016