COME JOIN US FOR OUR SPRING CONCERT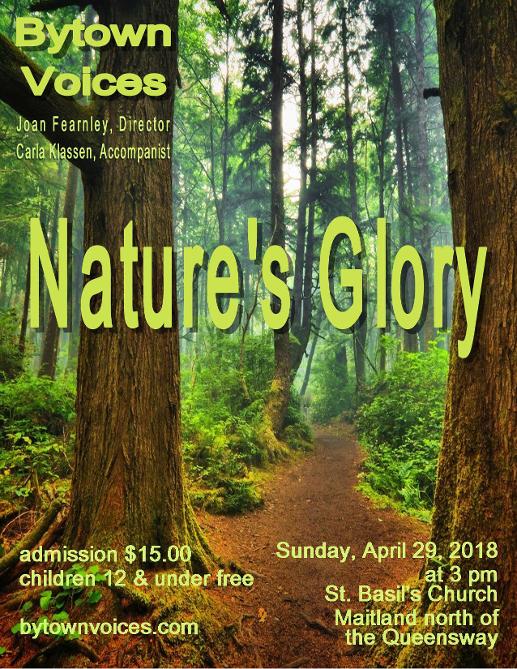 Featuring
Songs of Nature Op. 63
Music: Antonin Dvorak
Text: Vitezslav Halek
Frostiana
Music: Randall Thompson
Text: Robert Frost
Bein' Green
Music and Text: Joe Raposo
Arranger: Paul Langford
Emily Carr Suite
Music: Brian Tate
Canadian Composer
Text: Emily Carr
Four Choral Critters
Music: Christine Donkin
Canadian Composer
Text: Ogden Nash
Sure On This Shining Night
Music: Morten Lauridsen
Text: James Agee
Guest Flautist Loyda Lastra
.... and more!
Nature's Glory is Bytown Voices' choral celebration of the beauty of nature. Our choir has chosen music for the whole family and includes beautiful poetry set to memorable music. Hear Morten Lauridsen's powerful setting of James Agee's Sure On This Shining Night. Local composer, Christine Donkin, has turned Ogden Nash's animal limericks into musical comedy. And in the Ottawa premiere of the Emily Carr Suite, Vancouver-based composer Brian Tate, uses the haunting words of artist and writer Emily Carr in his musical depiction of the vastness of the Canadian landscape…and more.
Tickets available from members, at the door on day of concert or Leading Note Music Store, 370 Elgin, Ottawa ON
For more information: bytownvoices@gmail.com
Bytown Voices: A Community Choir in Ottawa
For more information contact:
bytownvoices@gmail.com
NEW MEMBERS WELCOME
Thinking of joining a choir in Ottawa? Potential new members are welcome to "try us out" before we take your money. New members may join during the first month of each season (September and January). Rehearsals are every Tuesday: 7:30 - 9:30 pm at St. Basil's Church (east of Maitland just north of the Queensway)with longer practices closer to performance dates. The fee for each season (Fall and Spring): $95.00 (Music provided).
The first practice of the Fall 2018 season is Tuesday, September 4, 2018 at 7:30 pm.
What Is the Bytown Voices?
The Bytown Voices is a non-audition community choir made up of more than 60 enthusiastic singers from across the Ottawa region. We perform two concerts a year, with additional outreach performances at seniors' residences, long-term care facilities and with other choirs. The choir is open to women and men of all ages and is SATB (Soprano, Alto, Tenor, Bass).
Click here and here to see the kinds of music we sing.
RECENT PERFORMANCES
Outreach Concert at Villagia in the Glebe-Retirement Residence, Dec 12, 2017
Spring 2017 Outreach Concert Oakpark Retirement Community, Tuesday, May 9th, 2017
Outreach concert with the Ottawa-Carleton Male Choir, December 9th, 2016
Light! Bytown Voices Winter Concert December 4, 2016