"SONGS FOR ALL REASONS"
Director Joan Fearnley | Accompanist Carla Klassen
Ode for St Cecilia's Day HWV Georg Frideric Handel
#4 From Harmony, from Heav'nly Harmony
#7 The Soft Complaining Flute
with Hayley Swanton, soprano | Katy Baerg, flute
Hear My Prayer Felix Mendelssohn
Va, pensiero Guiseppi Verdi
from "Nabucco"
Pavane Gabriele Fauré
with Cathy Baerg, flute
Since I Fell for You Buddy Johnson | Arr. Kirby Shaw
All the Pretty Little Horses Traditional Lullaby
Arr. and with additional words and music, Joyce Eilers
What Shall We Do With a Drunken Sailor?
Traditional Sea Chantey Arr. David Eddleman
Who Can Sail Without the Wind?* Traditional Swedish Folksong
Arr. Dan Forrest
Rhythm of Life* from "Sweet Charity"

Music, Cy Coleman | Lyrics | Dorothy Fields | Arr. Richard Barnes
* additional pianist, Ingira Reimer


Bytown Voices Spring "Songs for All Reasons" concert featured guest soloists soprano Hayley Swanton, flautist Cathy Baerg and additional pianist Ingira Reimer.
Audience members contributed $562 to the Alberta relief effort. This will be matched by the Government of Canada and augmented by a portion of the concert revenues.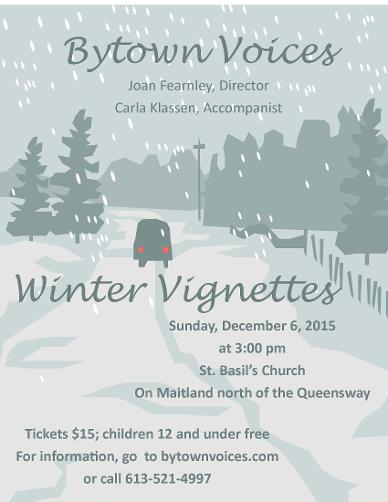 Winter Vignettes
Joan Fearnley, Director of Music ∞ Carla Klassen, Accompanist
December 6, 2015
Hodie Christus Natus Est Jan P. Sweelinck
Quatre Noëls du X111e Siècle François-Auguste Gevaert
Le sommeil de l'enfant Jésus
Les voisins
Le message des anges
Musette
How Brightly Shines the Morning Star Johann Kuhnau
Excerpts: Choruses 1, 111, V111
The Christmas Madrigal, or Fa, la, la, la
Deck the Hall Traditional
Throw the Yule Log On, Uncle John
PDQ Bach (a.k.a. Peter Schickele)
String interlude*
Monique Veselovsky, violin
│

Christian Veselovsky, cello
In the Bleak Midwinter* Gustav Holst │ arr. Catherine Bennett
Masters in This Hall* Traditional │ arr. Robert S. Frost
Winter Fun
Blizzard Vicki Tucker Courtney
New Fallen Snow Stan Pethel
Winter Wonderland Felix Bernard │ arr. Ruth Schram
Jingle Bells J. Pierpont │ arr. David Willcocks