To play its part in flattening and planking the COVID-19 virus curve, the Bytown Voices Community Choir has cancelled the rest of its Spring 2020 season including the final 20th anniversary concert Gloria! scheduled for April 26, 2020.
Future announcements will be found here and on our Bytown Voices Facebook page.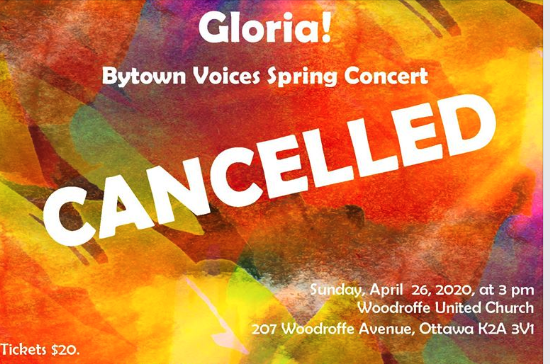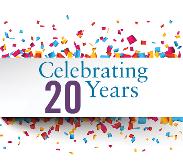 NEW MEMBERS WELCOME in January and September of each year
Thinking of joining a choir in Ottawa? Potential new members are welcome to "try us out" before we take your money. New members may join during the first month of each season (September and January). Rehearsals are every Tuesday: 7:30 - 9:30 pm at St. Basil's Church (east of Maitland just north of the Queensway)with longer practices closer to performance dates. The fee for each season (Fall and Spring): $95.00 (Music provided). The next new member intake will be September 2020.
For more information contact: bytownvoices@gmail.com
What Is the Bytown Voices?
The Bytown Voices is a non-audition (i.e. no auditions required) community choir made up of more than 60 enthusiastic singers from across the Ottawa region. We perform two concerts a year, with additional outreach performances at seniors' residences, long-term care facilities and with other choirs. The choir is open to women and men of all ages and is SATB (Soprano, Alto, Tenor, Bass). Click here to see the kinds of music we love to sing. See"Hear Us Sing" below to listen to samplers of our singing from recent concerts.
Joan Fearnley,
Director of Music


RECENT PERFORMANCES
December 8th 2019. Ring the Bells in Celebration!
December 10, 2019. Outreach Concert at Villagia in the Glebe retirement community.
April 30, 2019. Outreach Concert at Carlingwood Retirement Community.
April 28, 2019. Feel the Spirit Spring Concert
HEAR US SING - Samplers from recent concerts
"Feel the Spirit Concert"
April 28, 2019
Click Below
"Peace on Earth" Concert
December 9, 2018
Click below
Peace On Earth - Dec 2018.mp3
"Nature's Glory" Concert Sampler
April 29, 2018
Click below
Nature's Glory Spring 2018.mp3
Christmas Stories Concert Sampler
From Oratorio to the Movies
December 10, 2017
Click to the right

"MADE IN CANADA: a concert of Canadian music"
Concert Sampler
May 7, 2017
Click below
Made In Canada 2017 Spring Concert Sampler.mp3
Christmas Stories-Dec 2017 Concert Sampler.mp3