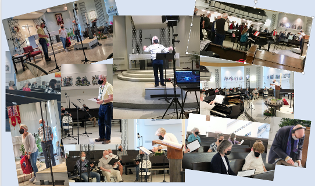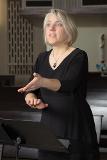 Bytown Voices' Director of Music Joan Fearnley reflects on the 2021-2022 year in an audio profile recorded and produced by Kevin Burns. Our Director talks about her goals for our choir and how she chooses music for Bytown Voices. Her choices include Antonio Vivaldi's Et in Terra Pax from 'Gloria' (18th century) sung in Latin, I Am Possibility by the young American composer David von Kampen, selections from John Rutter's English folk-song cycle The Sprig of Thyme (late 20th century), and Il est bel et bon by Pierre Passereau (16th century) sung in French. Joan's remarks are accompanied by short excerpts (all copyright compliant) from BV performances in final rehearsals in December 2021 and May 2022. Our wonderful accompanist is Carla Klassen.

This engaging audio item of talk and music runs for 17 min/25 secs. To ensure the best quality audio, this recording has been produced in broadcast quality WAV file format (highly recommended; some computers will want to download this before playing and it may take some time to load but it is worth the wait!). A second link to the same item in MP3 format is also provided and this should play immediately.
Click on the your choice of sound file (WAV or MP3) directly below to listen. Enjoy!
BV 2021-22 Season-Fearnley.mp3
The 2022 Winter-Spring Season (Jan 11-May 10) has been a weekly program of hybrid rehearsals featuring in-person and ZOOM options.
Here are two of the pieces we practiced and recorded.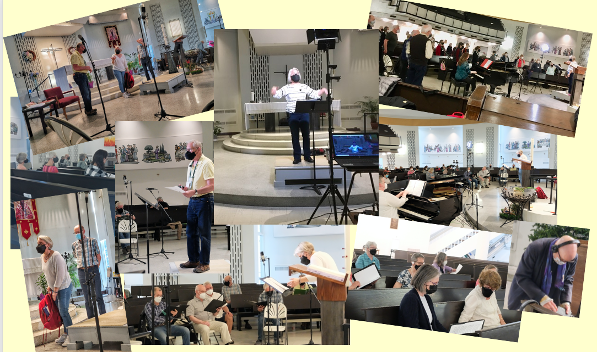 Il est bel et bon by Pierre Passereau
Il est bel et bon-Passereau.mp3
Et in Terra Pax from Gloria! by Antonio Vivaldi
Et in Terra Pax-Vivaldi.mp3
Bytown Voices
keeps on singing during the pandemic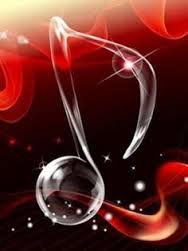 To play our part in responding to the COVID-19 pandemic in a safe and responsible manner, the Bytown Voices Community Choir cancelled its in-person rehearsals and public performances for the remainder of the 2020 year through Spring of 2022.
Bytown Voices has now completed five virtual sessions using
a hybrid rehearsal structure of in-person and online, or when required all online rehearsals on ZOOM.

Click on the sessions below to see the tunes we have worked on! And scroll to the bottom of this page to enjoy our virtual choir performances of
"Moon River" and "Old Lady Rose".

Fall 2020 Winter 2021
Spring 2021 Fall 2021
2022 Winter

The Bytown Voices Community Choir has found ways to sing in person while still following public health guidelines. Our next concert will be in December 2022. Photo by Valerie Bryce
Glebe Report April 14 2022 by Valerie Bryce
Choir Singing in the Time of COVID
Bytown Voices has survived through the pandemic, not only intact but with an increased membership. As one of the original members from the days of the Glebe Singers (now Bytown Voices) said. "Rehearsals on ZOOM were not ideal, but it kept us in touch and in voice."


Click to read full article
What is Bytown Voices?
The Bytown Voices is a non-audition (i.e. no audition required to join) community choir made up of more than 60 enthusiastic singers from across the Ottawa (ON) region. The choir is SATB: sopranos, altos, tenors and basses. Normally, we perform two concerts per year, with additional outreach concerts at seniors' residents and long- term care facilities. But we are not back to "normal" times.
Regular rehearsal and concerts will resume when circumstances permit.
Thinking of joining a choir in Ottawa?
New members are welcome to Bytown Voices
Information about the 2022 Fall season starting in September will be available soon and posted on this website.
If you have questions contact us at: bytownvoices@gmail.com
Keep singing with the Bytown Voices Community Choir - Come join us!
Below: Pre-COVID concert performance. Mid-left front - Carla Klassen, Pianist. Mid-right front - Joan Fearnley, Director of Music.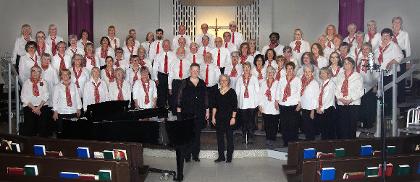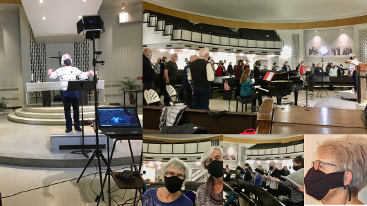 In-person rehearsals during COVID require all participants to practice in masks at all times.
For the complete 20-year + concert music list 1999 to 2020 Click here