2016-2017 Bytown Voices Season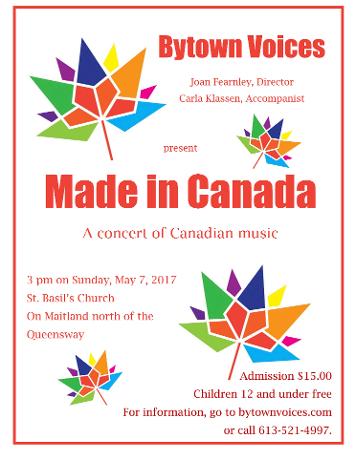 Program
1. Black Fly Song Hemsworth/Peach
2. Three Songs to Music Healey Willan
3. The Passionate Shepherd to his Love Ruth Watson Henderson
4. Paradise (Song of Georgian Bay) Hunter/Daley
5. Canadian Folk Song* Elise Letourneau
6. O Waly, Waly arr. Margrit Cattell
7. Ah! si mon moine voulait danser* arr. Donald Patriquin
**The Irish Washerwoman *
**Bonaparte *
8. Mon Pays Vigneault/Nickel
9. Frobisher Bay Gordon/Loomer/Nickel
10. Song for the Mira # MacGillivray/Calvert
11. In Flanders Fields Christine Donkin
12. Hymn to Freedom Oscar Peterson/Kirby Shaw
13. All the Little Rivers Nickel

* Accompanied by spoons by Normand Glaude
** Violin: Sarah Williams
# Accompanied by violin and spoons
Spring Outreach Concert
Oak Park Retirement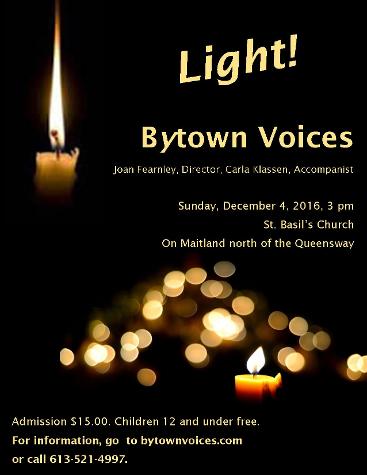 LIGHT!
Our 2016 Winter Concert
Sunday, December 4th, 2016
Delight in the Light! December's darkness is reflected by many cultures whose celebrations include candles and stars. Our winter program focussed on candlelight's comfort and starlight's guidance as well as beautiful seasonal pieces.
1. Winter Has Come
2. Choose Something Like a Star
3. Ave Maris Stella
4. Rise Up Shepherd and Follow
5. We Three Kings
6. Star Carol
7. Candles Are Dancing
8. Three Hanukkah Songs
9. Sankta Lucia
10. By Candlelight
11. Celebrate Kwanzaa
12. Here Comes the Light!
OUTREACH CONCERTS
Songs of Joy Each year Bytown Voices does a number of outreach concerts.
In December 2016 we joined voices with the Ottawa Carleton Male Choir for a special "Songs of Joy" concert on Friday, December 9th at Julian of Norwich Anglican Church at 8 Withrow Ave, Nepean.
$2,000 was raised for TEMBO: Tanzania Education and Micro-Business Opportunity.
*****************************
In May 2017 Bytown Voices entertained the residents of the Oak Park Retirement Community