BYTOWN VOICES 2021 SPRING SESSION
The 2021 Spring Session has successfully concluded.
Bytown Voices Community Choir offered an 8 week Spring Session on Zoom
from Tuesday April 20 to June 8, 2021. Fee: $50.
Our Director of Music, Joan Fearnley put together a light-hearted program
of the music of Gershwin, The Beatles and The Mamas and the Papas
to help keep choristers in positive spirits.
Blackbird The Beatles
Words and Music by John Lennon and Paul McCartney
California Dreamin' The Mamas and the Papas
Words and music by John Phillips and Michelle Phillips
Fascinating Rhythm
Music and lyrics
by George and Ira Gershwin

They Can't Take That Away From Me
Music and lyrics
by George and Ira Gershwin
We continue to welcome new members



Part of the joys of choral singing is getting to know your fellow choristers. During the pandemic this has been a challenge but even online, the time before the rehearsal and during the sectional practices does provide some opportunities for social interaction.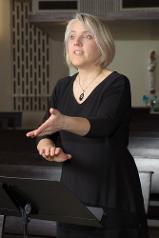 Bytown Voices Director of Music
Joan Fearnley
How we rehearse using ZOOM
E-doors to the online Spring Session rehearsals open at 7:15 pm each Tuesday and practice starts at 7:30 pm. The rehearsal lasts for 75 minutes and consists of :
- 15 minutes physical and vocal warm-up
- 40-minute sectional rehearsals (SATB) with professional musicians leading each section. Sectional practices use Zoom's 'breakout room' feature.
- a final 20 minute plenary session where we put the music together.
We use pre-recorded tracks to accompany members' singing in the plenary sessions.
HOW TO REGISTER for the 2021 Spring Session
All participants in the Spring Session must register
Once your registration form has been received, you will receive
electronically a
ZOOM invitation link for your first rehearsal, plus links to the music scores in PDF format, as well as links topractice tracks and other electronic study and learning aids.

Registration fees cover only a part of this program. Some of the Bytown Voices' current balance is used to cover the rest of the costs. Donations are always welcome.
HOW TO PAY for your REGISTRATION
The registration fee for the Spring session is $50.00
The session runs weekly from April 20 to June 8, 2021 inclusive.
Current members must pay the fee when they register.
New members may attend one "try-us-out" rehearsal before paying.
There are three ways to pay the registration fee:
1. By CREDIT CARD using the secure form below.
2. By Interac e-TRANSFER to our Treasurer, JONATHAN JONES. The name for the "recipient" box on the bank's form is Jonathan Jones.

Choose your bank's email option to send registration payment to jonathan.jones5500@gmail.com.
3. By CHEQUE made out to Bytown Voices and sent to Jonathan Jones at 145 Dunbarton Court, Ottawa, ON K1K 4L6
NOTE: Bytown Voices would prefer that you use option #1 or #2 in order to make this process as efficient as possible.
#1 Pay your registration fee securely by credit card with the form below
NOTE: Bytown Voices uses the Simplyk platform to process online payments securely. Simplyk is a Canadian social impact company whose secure platform is used by more than 2,000 non-profit organizations in Canada. Online purchasers may make an additional contribution to support Simplyk (or not if you prefer) at the time of payment for registration for the Bytown Voices 2021 Spring Session . You may also decline the invitation to make a donation.