GET YOUR TICKETS
Join us for Reflections!
December 11, 2022

Our first public concert since December 2019 and

featuring our new children's choir component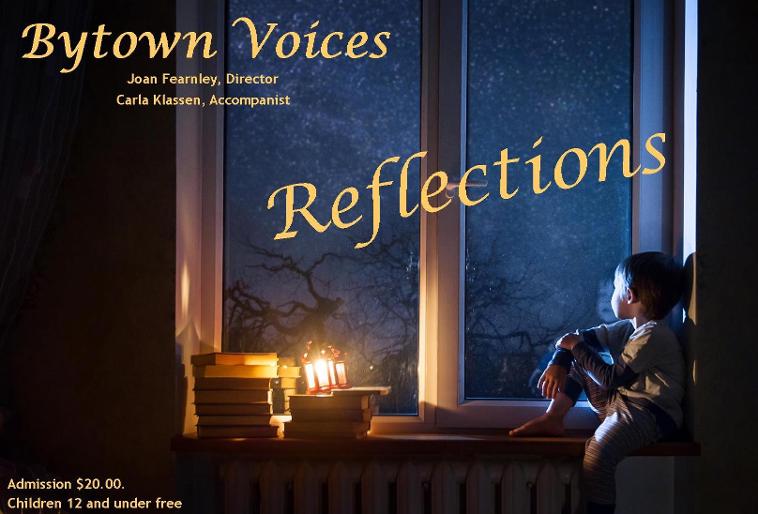 Date: Sunday, December 11, 2022 at 3 pm

Location: St. Basil's Church 940 Rex Ave; Off Maitland north of the
Queensway (

GPS key = 899 Maitland)
Accessibility: St. Basil's is wheelchair accessible
Health

and

Safety: Audience members are strongly encouraged to wear masks and practice social distancing while in the concert venue

Parking: Plenty of free parking in lots on either side of church

Get your TICKETS for Reflections!
Adults $20.00, Children 12 years and under FREE

How to purchase:
1. In advance online (
see below

) - no service fee charged; or
2. From choir members; or
3. On site on concert day withcash, debit (preferred) or credit card) - limited number available.
For more information contact: bytownvoices@gmail.com
1. Purchase your ticket(s) online here using the form below the dotted line.
NOTE: Bytown Voices uses the ZEFFY platform (formerly SimplyK) to process online payments securely. ZEFFY is a Canadian social impact company whose secure platform is used by more than 2,000 non-profit organizations in Canada. ZEFFY charges no fee on the transaction. Bytown Voices receives 100% of the ticket price.
ZEFFY asks for a voluntary donation to support their organization. To decline an additional contribution, when you reach the summary page of your order, click the right hand box by the line which says "Support the 100% free Canadian Platform..." Select OTHER - then enter 0.
- - - - - - - - - - - - - - - - - - - - - - - - - - - - - - - - - - - - - - - - - - - - - - - - - - - - - - - - - - - - - -