2023 Winter-Spring Season and Concert
BYTOWN VOICES
2023 Winter-Spring Season
January 10 to April 25, 2023
See below for registration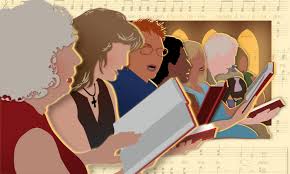 The Bytown Voices Community Choir 2023 Winter-Spring season starts on Tuesday January 10 and runs 16 weeks until Tuesday April 25th with a concert scheduled for Sunday, April 30th.
New and returning choristers can register using the link in the REGISTER HERE section below. Here's our 2023 Winter-Spring line-up.
Aux Aviateurs Camile Saint Saëns
Away from the Roll of the Sea Allister MacGillivray
Cantique de Jean Racine Gabiele Fauré
Come Fly with Me Sammy Cahn/J. Van
Husen
Fly Me To The Moon Bart Howard
Frobisher Bay Arr. Diane Loomer
I Am Voyageur Robin Salkeld
Old Lady Rose Dave Baker
Saturn's Embrace David von Kampen
Sicut Cervut Palestrina
The Spaces in Between Us Jan Garret
What Shall We Do with a Sea Shanty
Drunken Sailor


What you need to know for the 2023 Spring-Winter Season


Requirements for participation:
Submission of the registration form indicates

your

acceptance of these terms.
1. Health and safety: if you are sick you must stay home; masks must be worn by all choristers at all times in the church; elbow-to-elbow distancing must be observed at all times in the church. A
ll choristers and musicians should be fully vaccinated.
2. Rehearsals
will take place weekly (January 10 to April 25) in St. Basil's Church, 940 Rex Ave (off Maitland, north of Queensway) between 7:30 p.m. and 9:00 p.m (adults) and

7:30-8:15 pm for children. Rehearsal
includes a short break at 8:15 pm.
3. Rehearsal format: all rehearsals will be in-person; there is no Zoom option
(except when in-person rehearsals must be cancelled due to circumstances beyond our control). An audio recording is available after each rehearsal.
4.
Registration Fee
2023 Winter-Spring Season: $110 adult; $50 child, age 9 (grade 4) and up. The options for fee payment include online credit card or debit card with CVC on back of card, Interac e-transfer of funds, and cheque. You will be linked to the payment options and procedural details when you complete your registration using the REGISTRATION FORM link below.
If you have any questions about registration, please contact our Membership Lead, Charles Pryce, at charles.pryce@sympatico.ca or 613-728-7392
REGISTER HERE
FOR THE 2023 WINTER-SPRING 2023 SEASON
All adult and child members (or parent or guardian),
both new and returning, must fill out a registration form.
New members must register but may try us out for one or two rehearsals
before deciding to pay to continue singing with Bytown Voices.

Here is the link to the