BYTOWN VOICES
2022 Fall Season
September 6, 2022 to Dec 6, 2022
See below for registration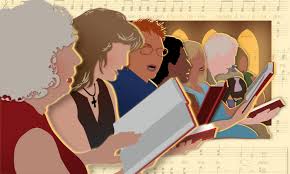 The Bytown Voices Community Choir 2022 Fall season started on Tuesday, September 6th. There will be a public concert (the first since December 2019) on Sunday, December 11, 2022 at 3:00 pm in St. Basil's Church.
New and returning choristers can register using the link in the REGISTER HERE section below.
What you need to know for the Fall Season

As we return to St. Basil's Church for in-church rehearsals on September 6th, 2022,
the following are details and requirements for participation.
Submission of the registration form indicates

your

acceptance of these terms.
1. Health and safety: if you are sick you must stay home; masks must be worn by all choristers at all times in the church; elbow-to-elbow distancing must be observed at all times in the church.
Vaccination: proof of a minimum of 2 doses plus one booster for adults and one dose for children must be provided.
Returning members from the 2022 Winter-Spring Season who have already provided the required proof of vaccination need not do so again. For new members and any returning members who have not provided proof, this is only required once. You can do this at the first rehearsal you attend or in advance by emailing
membership lead Charles Pryce, charles.pryce@sympatico.ca. Information is provided in confidence and is not maintained after it has been reviewed.
2. Rehearsals
will take place weekly in St. Basil's Church, 940 Rex Ave (off Maitland, north of Queensway) between 7:30 p.m. and 9:00 p.m (adults) and

7:30-8:15 pm for children. They
will include a short break at 8:15 pm either outside (weather permitting) or in the lower level of the church.
3. Rehearsal format: all rehearsals will be in-person; there is no Zoom option
(except when in-person rehearsals must be cancelled due to circumstances beyond our control).
4. Fall Season Fee: $110 adult; $50 child, age 9 (grade 4) and up. The options for fee payment include credit card, Interac e-transfer of funds, and cheque. You will be linked to the payment options and procedural details when you complete your registration using the REGISTRATION FORM link below.
If you have any questions about registration, please contact our Membership Lead, Charles Pryce, at charles.pryce@sympatico.ca or 613-728-7392
REGISTER HERE
All adult and child members (or parent or guardian), both new and returning,
must fill out a registration form.
New members must register but may try us out for one or two rehearsals
before deciding to pay to continue singing with Bytown Voices.

Here is the link to the
2022 Fall Season Music Line-up
1. All the Pretty Little Horses | Trad USA lullaby
2. Cat's in the Cradle | arr. Larry Nickel
*


3. Dominic Has a Doll | 4 Cummings Chorus #98
4. The Dream Keeper | Rollo Dilworth
5. Echo I Emily Green *
6. Golden Slumbers | The Beatles

* = Canadian
7. I Have a Little Shadow | Dave Brubeck
8. A Lullaby | Lyndsay Bolden Gowing
*


9. The Marvellous Toy | Tom Paxton
10. The Swing | David von Kampen